Price: $169 – Install on up to 5 sites

Do you need to upload Articulate Rise, Storyline, Studio, Captivate, Lectora, Camtasia, iSpring, Elucidat, Gomo, Obisidian Black, MindManager, any other tools, or even completely custom content to your WordPress site? With the premium version of this WordPress plugin, you'll not only be able to upload content, you'll also be able to display your content with themes, disable scroll bars, use custom launch buttons, utilize custom sizing so that your content displays exactly the way you want it to, and much more with no limits on the size of your uploads. Why buy a complicated WordPress LMS plugin when all you need to do is quickly upload and display your e-learning content? Check out the release notes below for more information or the plugin review at: http://wpplugincoach.com

Premium Support
Buying this plugin gives you access to our support team. You can email them your questions about usage of the plugin or your problems in setting it up and they'll help you out!
Responsive IFrames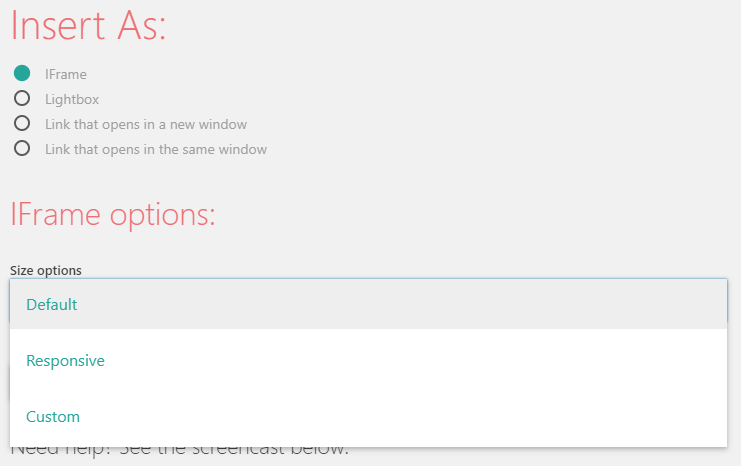 The Default option will display content as it always has in the free version at 100% width and 600px height. While this works great for content viewed on a Desktop, it could make your content look too tall or short depending on your theme.

The Custom option allows you to specify the exact width and height in both pixels and percent to give you full control over your content.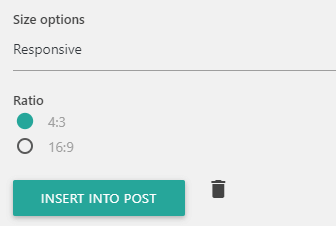 When you choose the Responsive option, you'll also get to select the aspect ratio of your content. This helps the plugin display the content exactly how you intended it no matter what device your learner is using.

Theme Examples: (13 themes included)
Vintage (click to view larger):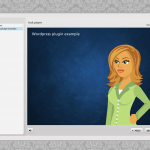 Wood Table (click to view larger):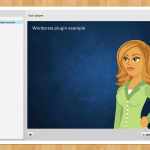 There are 13 new themes included with the plugin to display your content.

FAQ:

If I update from the free WordPress plugin to this premium version, what happens to the content that I've already uploaded?

Nothing. The premium plugin can use your existing content or any new content that you upload.

Once I've purchased the premium plugin, how do I install it?

Just manually install the plugin using these instructions.

If I purchase the premium plugin, will I get free updates?

Of course! Not only will you receive bug fixes at no additional charge, you'll also receive access to additional features with your valid license.

Do you offer discounts to educational organizations?

I absolutely love helping people save money! Contact me via the form at the bottom and tell me what you're willing to pay for the premium plugin.

Do you have a 14 day money back guarantee?

Yes! If you don't love the plugin for any reason, let me know and I'll refund your purchase within 14 days. Just give me an opportunity to solve your problem first. No matter if it's a problem with your theme, your WordPress installation, or your authoring tool, I'll do whatever it takes to make your content look exactly how you want it to.

Does the plugin work with content created in Storyline 1, 2, 3, or 360?

Yes! The plugin works with all versions of Storyline. It's also compatible with Articulate's new Modern Player released in May 2018.

Does the plugin work with content created in Rise?

Yes! The plugin works great with content from Rise.

Does the plugin work with content created in the Articulate Studio '13 and 360 line of products?

Yes! This plugin works with all versions of Studio.

How do I use it with Adobe Captivate?

Check out our blog article here on how to use the WordPress plugin with Captivate.

Does the plugin work any other tools?

Yes! We've tested it with Captivate, Lectora, iSpring, Camtasia, Elucidat, Gomo, mindjet MindManager and much more. If there's a tool not listed here, it probably works anyway. Just contact us with your .zip file and we'll test it for you!

Will this plugin work with completely custom e-learning modules?

Definitely! We have many customers that create their own content. Just ZIP your output and upload it!

RELEASE NOTES

5.5
Added support for Responsive IFrames

5.0.2
Fixed a bug where a Lightbox would show the controls more than once with Rise content.

Added support for most popular e-learning tools including Captivate, iSpring, Lectora, Camtasia, Elucidat, Gomo and more. If there's a tool not listed here, it probably works anyway. Just contact us with your .zip file and we'll test it for you!

5.0.1
Content in an iframe will have the scrollbars disabled by default.

5.0.0
New content uploaded or added via the Content Library will use a relative URL instead of an absolute URL. This prevents mixed content errors from preventing content from displaying.

4.27
Resolved an issue where files couldn't be uploaded in the Edge browser.

4.26
Resolved an issue where a zip file created on a Mac wouldn't upload properly.

4.25
Resolved an issue where the upload window would take over the whole site instead of opening in a lightbox. This caused multiple upload issues on some sites where there were JavaScript conflicts.

4.2.4
Resolved an issue where uploads will fail to extract the zip contents on some sites. Thanks to Jonathan Simcina for the fix

4.2.3
Resolved an issue with a blank window when uploading content on some sites that use page builder themes. Thanks to Jonathan Simcina for the fix

4.2.2
Resolved a plugin conflict with WPLMS theme and their Vibes Shortcode plugin Resolved a plugin conflict with the Visual Composer plugin Fixed another bug where scripts and styles for this plugin were being loaded on pages where they weren't needed

4.2.1
Fixed a bug where scripts and styles for this plugin were being loaded on pages where they weren't needed
Fixed a bug where the Themes dropdown wouldn't load in the Lightbox page

4.2.0
Fixed another bug where dropdowns no longer worked in WordPress admin

4.1.9
Fixed a bug where dropdowns no longer worked in WordPress admin

4.1.8
Fixed a bug where the custom button wasn't saving properly New look and feel
Added compatibility with Articulate 360
Added compatibility with Rise

4.1.7
Fixed a bug where uploads didn't get extracted into the target directory

4.1.6
Fixed a bug where uploads weren't completing

4.1.5
Resolves error 200 that some users were experiencing by utilizing WordPress's unzip function

4.1.4
Uploads no longer rely on server settings. That means no more updating php.ini files or contacting your web host. Upload huge files without running into timeouts!

4.1.3
Fixed a bug where a deep zip file wouldn't upload properly

4.1.2
Removed annoying admin notice that appeared for some users

4.1.1
Misc. bug fixes

4.1
Added multi-site or network support

4.0
Added support for custom lightbox sizing
Added support for custom launch buttons
Added themes Added the ability to disable scroll bars when you launch with a lightbox
Added support for custom transitions in the default lightbox
Added support for the Nivo lightbox
Added support for custom transitions in the Nivo lightbox
Added a Dashboard that displays on the left side of the Admin panel in WordPress

3.2
Added support for Articulate Studio '13 including Presenter '13, Engage '13, and Quizmaker '13

Need technical support or have a question about the plugin? Use the contact form below:

Tags:
Articulate WordPress Plugin supports Captivate, iSpring, Camtasia, Storyline, Presenter and more!
Article Last Updated May 31, 2018