Looking to insert or embed iSpring content into your WordPress site? In this article, we'll show you how easy it is to publish content from iSpring as a .zip file and upload it to your WordPress website.
(Note: It doesn't matter which version of iSpring or product you're using. The steps are very similar.)
Applies to:
iSpring Suite 10
iSpring Suite 9
iSpring Suite 8
iSpring Suite 7
iSpring Free 9
iSpring QuizMaker
iSpring Page
Step 1
Open your course in PowerPoint, click on the iSpring menu, and click Publish: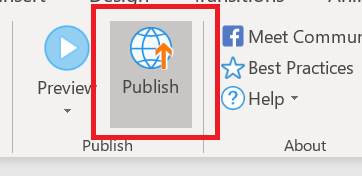 Step 2
Click on My Computer. The WordPress Plugin that we're going to use only needs your published .zip file. This makes it really easy to upload your content to WordPress.